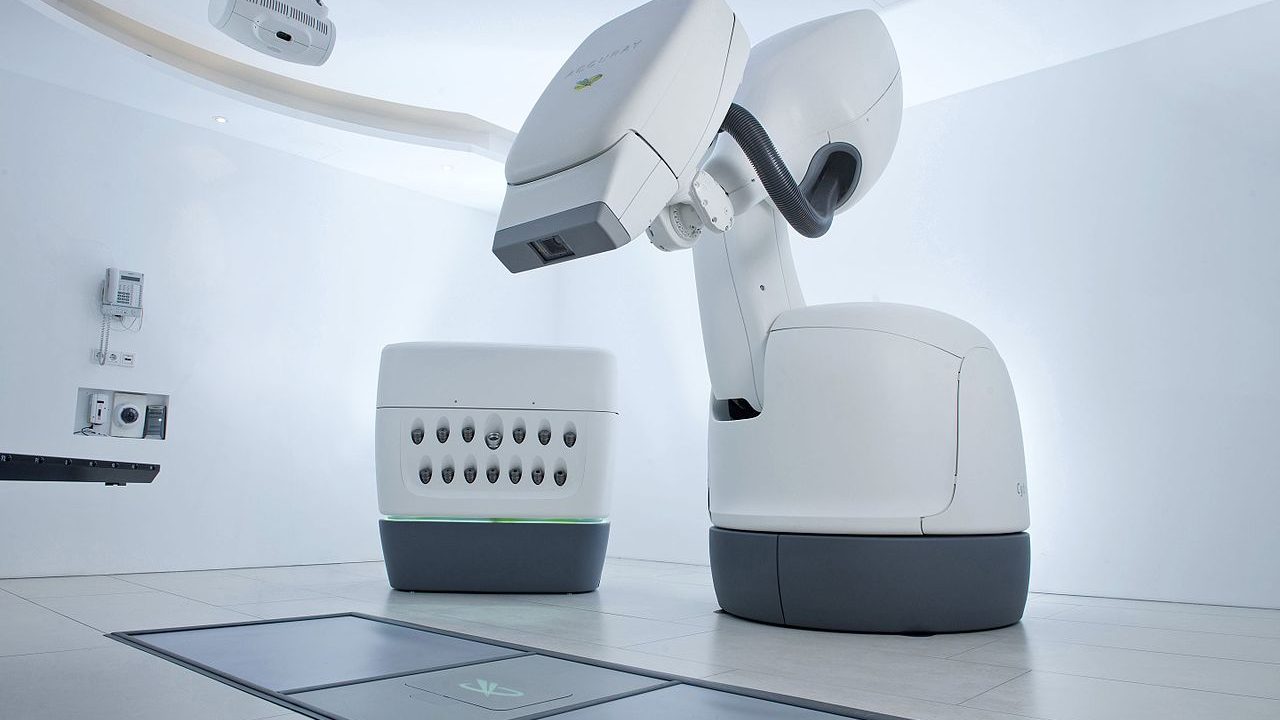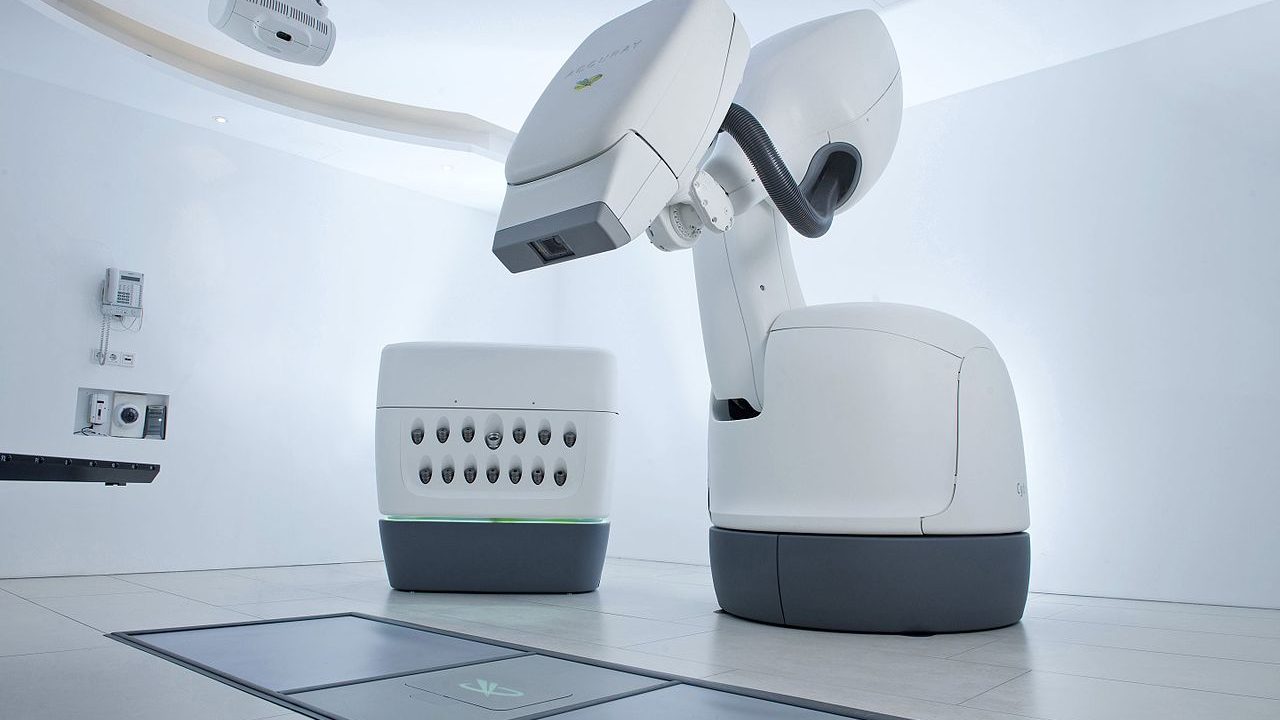 Das Cyberknife ist ein robotergestützter Linearbeschleuniger zur Radiochirurgie, der an der Stanford University von der Firma Accuray entwickelt wurde. Weltweit wurden bereits über 100.000 Behandlungen mit dem Cyberknife-System durchgeführt. Anders als beim seit 1968 eingesetztem Gamma-knife, verfügt das Cyberknife über ein spezielles Laserabtastsysthem, das die Körperoberfläche während der Behandlung beobachtet und bei kleinsten Bewegungen dafür sorgt, dass sich der Roboterarm mit dem Therapiegerät an die Positionsänderung anpasst. Dadurch benötigt man keine starre Fixierung mehr, bei denen Schrauben am Schädel festgemacht werden, sondern es reicht eine einfache Maske. Das hat den Vorteil, dass das Verfahren schmerzfrei ist und bei größeren und ungünstig gelegenen Tumoren die Behandlung zur besseren Schonung auf mehrere Sitzungen aufgeteilt werden kann. Ein weiterer Vorteil ist die Kürze der Behandlung. So erstreckt sich  z.B. die Behandlung von Prostatakrebs nicht über mehrere Wochen, sondern benötigt lediglich 5 Sitzungen.
Behandlungsspektrum
Bei folgenden Erkrankungen konnte mit wissenschaftlichen Methoden die Wirksamkeit der Cyberknife – Behandlung nachgewiesen werden:
Kirsten Eibl-Lindner, Christoph Fürweger, Martina Nentwich, Paula Foerster, Berndt Wowra, Ulrich Schaller, Alexander Muacevic: Robotic radiosurgery for the treatment of medium and large uveal melanoma. In: Melanoma Research. Band 26, Nr. 1, Februar 2016, S. 51–57, doi:

10.1097/CMR.0000000000000199

(lww.com [abgerufen am 19. August 2016]).

Hochspringen

↑ Berndt Wowra, Alexander Muacevic, Christoph Fürweger, Christian Schichor, Jörg-Christian Tonn: Therapeutic profile of single-fraction radiosurgery of vestibular schwannoma: unrelated malignancy predicts tumor control. In: Neuro-Oncology. Band 14, Nr. 7, 1. Juli 2012, ISSN 1522-8517, S. 902–909, doi:

10.1093/neuonc/nos085

, PMID 22561798, PMC 3379795 (freier Volltext) – (oxfordjournals.org [abgerufen am 19. August 2016]).

Hochspringen

↑ Or Cohen-Inbar, Cheng-chia Lee, Jason P. Sheehan: The Contemporary Role of Stereotactic Radiosurgery in the Treatment of Meningiomas. In: Neurosurgery Clinics of North America (= Meningiomas). Band 27, Nr. 2, 1. April 2016, S. 215–228, doi:

10.1016/j.nec.2015.11.006

(sciencedirect.com [abgerufen am 19. August 2016]).

Hochspringen

↑

Ken Somekawa, Masayuki Yamatani, Satoshi Endo, Kiminori Fuse, Akiyoshi Sato: Prospects of CyberKnife stereotactic radiation therapy for cerebral vascular malformations and functional diseases. In: Brain and Nerve = Shinkei Kenkyū No Shinpo. Band 63, Nr. 3, 1. März 2011, ISSN 1881-6096, S. 217–222, PMID 21386122.

Hochspringen

↑ Berndt Wowra, Alexander Muacevic, Jörg-Christian Tonn: CyberKnife radiosurgery for brain metastases. In: Progress in Neurological Surgery. Band 25, 1. Januar 2012, ISSN 1662-3924, S. 201–209, doi:

10.1159/000331193

, PMID 22236681 (PMID 22236681 [abgerufen am 19. August 2016]).

Hochspringen

↑ Markus Heide: Strahlentherapie bei Hirnmetastasen: Der Trend geht zur stereotaktischen Radiochirurgie statt Ganzhirnbestrahlung. In: www.dgn.org. Abgerufen am 19. August 2016.

Hochspringen

↑ Joanne N. Davis, Clinton Medbery, Sanjeev Sharma, John Pablo, Frank Kimsey: Stereotactic body radiotherapy for centrally located early-stage non-small cell lung cancer or lung metastases from the RSSearch(®) patient registry. In: Radiation Oncology (London, England). Band 10, 1. Januar 2015, ISSN 1748-717X, S. 113, doi:

10.1186/s13014-015-0417-5

, PMID 25975848, PMC 4443630 (freier Volltext).

Hochspringen

↑

M. Schoenberg, A. Khandoga, S. Stintzing, C. Trumm, T. S. Schiergens, M. Angele, M. Op den Winkel, J. Werner, A. Muacevic, M. Rentsch: CyberKnife Radiosurgery – Value as an Adjunct to Surgical Treatment of HCC? In: Cureus. Band 8, Nr. 4, 28. April 2016 (cureus.com [abgerufen am 6. September 2016]).

Hochspringen

↑ Sebastian Stintzing, Ralf-Thorsten Hoffmann, Volker Heinemann, Markus Kufeld, Markus Rentsch, Alexander Muacevic: Radiosurgery of liver tumors: value of robotic radiosurgical device to treat liver tumors. In: Annals of Surgical Oncology. Band 17, Nr. 11, 1. November 2010, ISSN 1534-4681, S. 2877–2883, doi:

10.1245/s10434-010-1187-9

, PMID 20574773.

Hochspringen

↑ Christopher R. King, Debra Freeman, Irving Kaplan, Donald Fuller, Giampaolo Bolzicco: Stereotactic body radiotherapy for localized prostate cancer: pooled analysis from a multi-institutional consortium of prospective phase II trials. In: Radiotherapy and Oncology: Journal of the European Society for Therapeutic Radiology and Oncology. Band 109, Nr. 2, 1. November 2013, ISSN 1879-0887, S. 217–221, doi:

10.1016/j.radonc.2013.08.030

, PMID 24060175.

Hochspringen

↑ Debra Freeman, Gregg Dickerson, Mark Perman: Multi-institutional registry for prostate cancer radiosurgery: a prospective observational clinical trial. In: Frontiers in Oncology. Band 4, 1. Januar 2014, ISSN 2234-943X, S. 369, doi:

10.3389/fonc.2014.00369

, PMID 25657929, PMC 4302811(freier Volltext).

Hochspringen

↑ M. Staehler, M. Bader, B. Schlenker, J. Casuscelli, A. Karl, A. Roosen, C. G. Stief, A. Bex, B. Wowra, A. Muacevic: Single fraction radiosurgery for the treatment of renal tumors. In: The Journal of Urology. Band 193, Nr. 3, 1. März 2015, ISSN 1527-3792, S. 771–775, doi:

10.1016/j.juro.2014.08.044

, PMID 25132240.

Hochspringen

↑

Shankar Siva, Rodney J. Ellis, Lee Ponsky, Bin S. Teh, Anand Mahadevan, Alexander Muacevic, Michael Staehler, Hiroshi Onishi, Peter Wersall, Takuma Nomiya, Simon S. Lo: Consensus statement from the International Radiosurgery Oncology Consortium for Kidney for primary renal cell carcinoma. Future Medicine, London März 2016, S. 637–645 (futuremedicine.com).
Quelle: https://de.wikipedia.org/wiki/Cyberknife
Videoquellen youtube; Für den Inhalt der Videos wird keine Haftung übernommen.